Easy way to Install WordPress
September 22, 2014
How to run the WordPress Install Script ?
– If we uploaded the WordPress files in the root folder, Then url should be: http://mysite.com/wp-admin/install.php
WordPress will create the config file (wp-config.php) automatically.
Enter the database information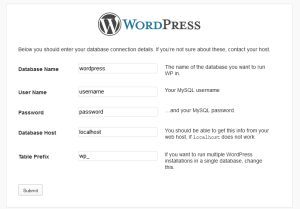 After Entered the Database details below screen will be opened to continue the install process:

Clicking on "Run the install" button screen will show like as below:
Here we will enter site title, Desired user name, Choice of a password (twice) and valid e-mail address. Below One checkbox is given to appear our site in search engine like Google.