How to make Password Protect Page in WordPress ?
May 3, 2014
We can apply Password protection to WordPress posts and pages. There is a built in option in WordPress for Password protection. Once We publish a WordPress post (or Page), it will be public by default.
When we Create/edit a page or post in WordPress admin panel. on right side of page or post editor there is a box named "Publish". This means a page or post with a Published status has a default visibility of Public look like as below: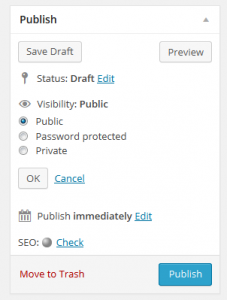 Clicking the "Edit" link next to Visibility: Public reveals three radio buttons below:
Public is selected by default.
Password protected.
Private.
When we checked the Password protected radio button the text field will be shown below for entering a password, The password limit is 20 characters max, After entering password click the "OK" button. Now post's new setting, e.g., Visibility: Password Protected.
To apply the setting Click on Publish button (or "Update" if the page is already published.)

When we view that page at font end, a password-protected with a title page will display like below: