Thoughts Of The Day
July 29, 2013
"Thoughts Of The Day" is a simple plugin that displays daily thought, Admin can add thoughts in each line for each day and will show the each line according to day.
Installation
Download thoughts-of-the-day.zip from here
Extract and upload thoughts-of-the-day directory to the plugins/ directory
Activate the plugin through the 'Plugins' menu in WordPress
Add the thoughts, each thought in each line.
Add the heading, default heading is "Thought Of The Day"
Click "Save" to save your settings.
How To Use
Shortcode: [THOUGHTSOFTHEDAY]
Function: <?php echo do_shortcode( '[THOUGHTSOFTHEDAY]' ) ?>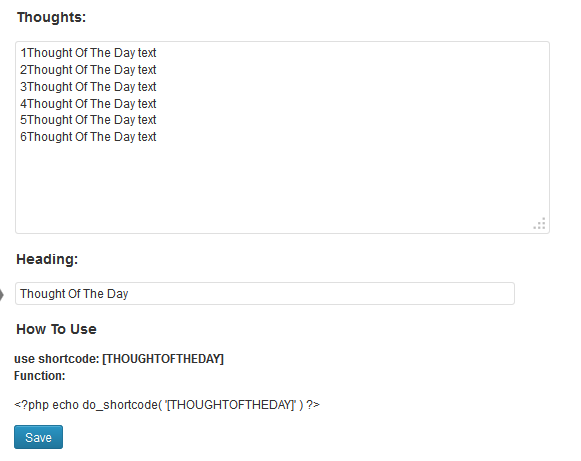 DOWNLOAD PLUGIN